We often think of witch vibes as a fall-only affair, typically associated with pointy black hats and spider webs. But year-round witchery is alive and well, with a plethora of practices, lore, and aesthetic pieces to help you ground your witchy vibes during every season. If you're inclined to natural world, you may find yourself deep in the the summer witch world of herbalism, gardening, and enjoying the healing power of nature. Whether you're practicing, curious, or just into witchy style, here are a few green witch inspired goodies to keep you grounded during the summer heat.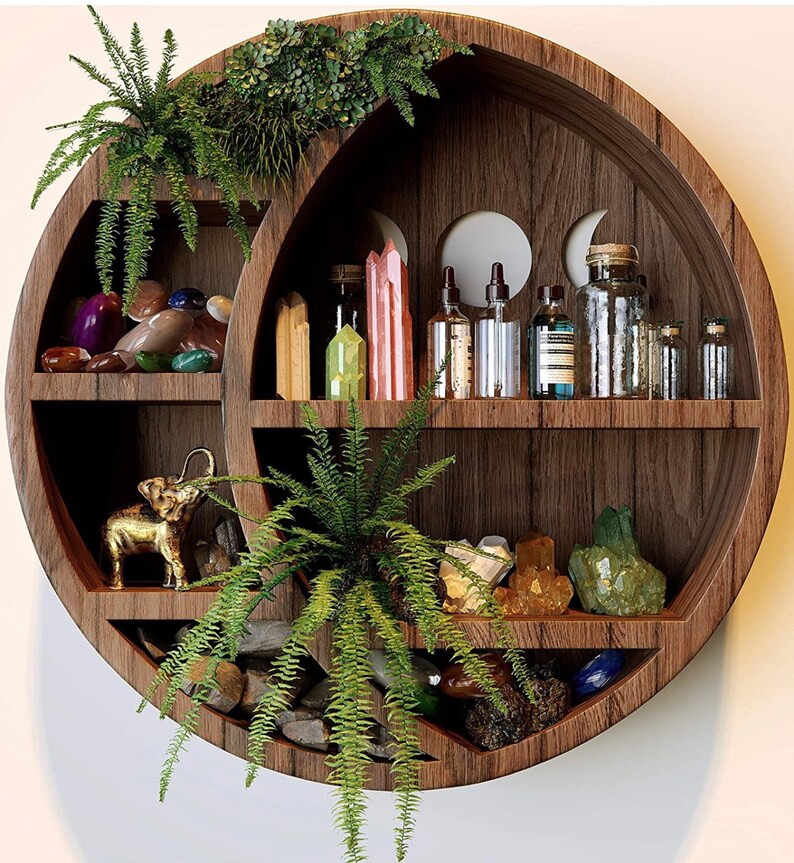 As the perfect space to store and organize your favorite plants, crystals, tinctures, and other items, this gorgeous wooden crescent shelf makes an elegant focal point or altar space. Handcrafted in California from genuine paulownia hardwood, this piece is infused with the skill and passion that comes with handmade products. There are infinite ways to style and stock your crescent shelf, or decorate it freshly for each season.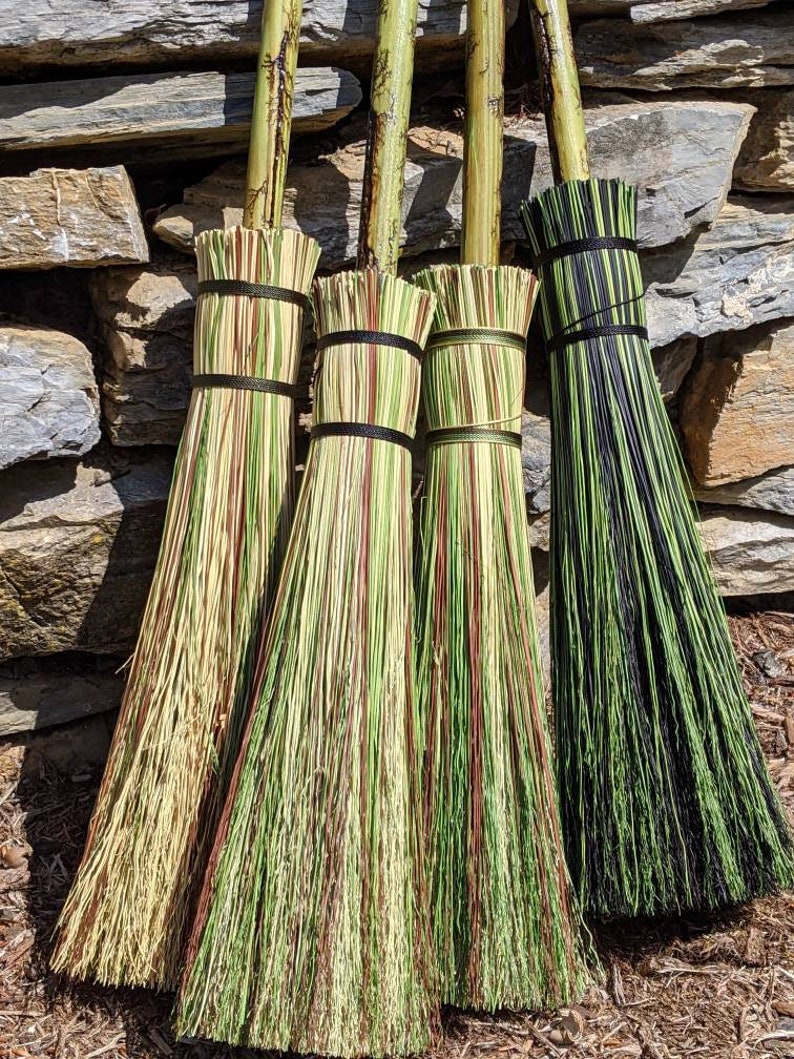 As a functional piece or decor item, these handcrafted all-natural brooms are the perfect addition to your entryway, mudroom, back patio, or porch. Each piece is decorated with one-of-a-kind "lightning" detailing made by conducting electricity across the surface of the broom handle during the crafting process. This incredible broom shop is worth perusing, as they have a ton of colors, sizes, and styles of handmade straw brushes and brooms.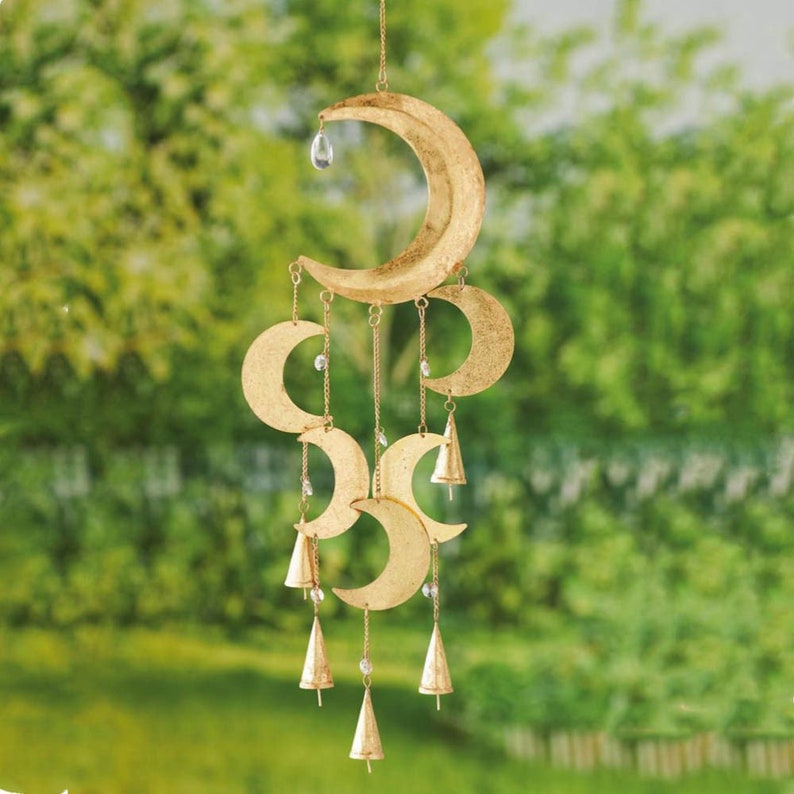 Decorate your garden (or indoors!) with this beautifully made brass moon wind chime. Obviously, you don't have to be witchy to enjoy this gorgeous design, which is made to both catch the light and make delicate jingly sounds in the wind. As a bonus, its movement may help keep the squirrels away from your garden... but no promises!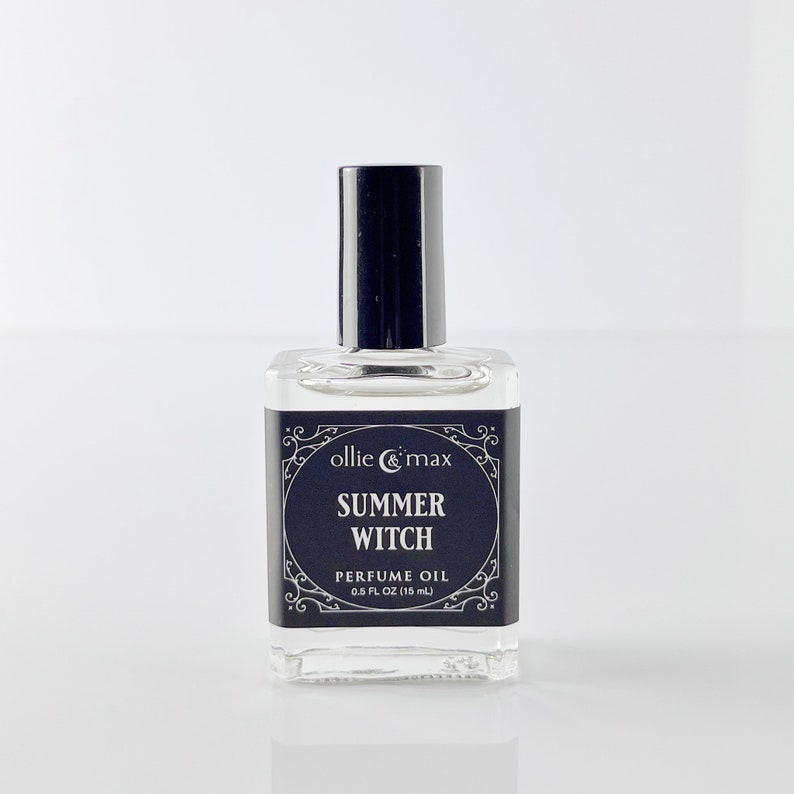 Scent is everything, and smelling good is truly a magical art. The summer witch vegan perfume from Ollie & Max is made with natural essential oils of patchouli, labdanum, citrus and anise. A little bit goes a long way, so this 15 mL bottle is sure to last you through the season. The bottle itself is also delightfully designed, making it a tasteful addition to your alters and shelves.

Preserve your best garden herbs and flowers using this gorgeous wooden handmade flower press. Make your own framable artwork, bookmarks, or other nature-inspired pieces with your dried pressed flowers. You can also create your own plant journal or identification book using your collected dried specimens, adding texture to your garden grimoire.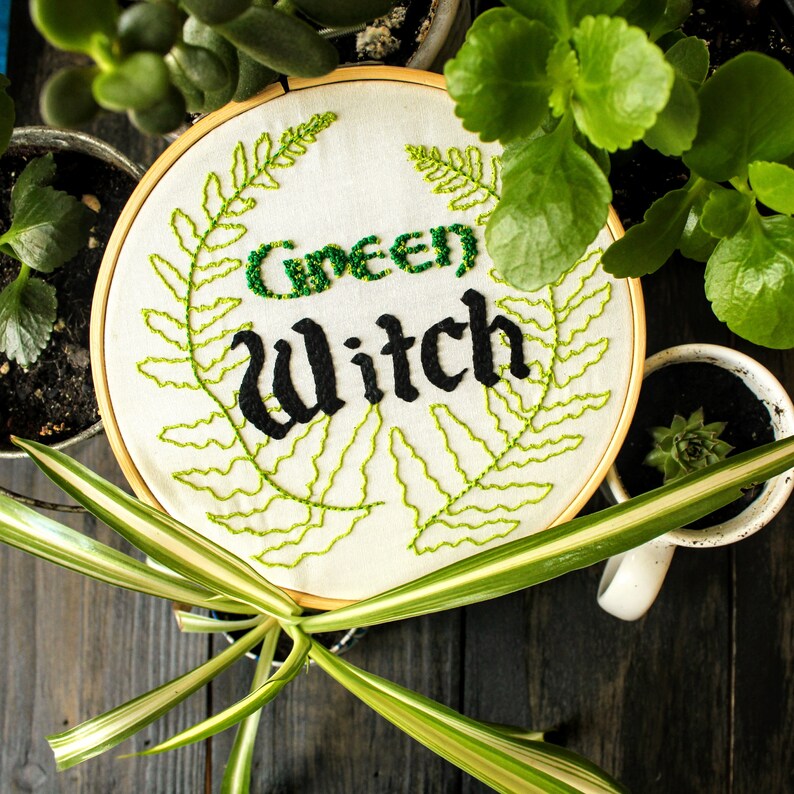 For the witch who likes to stitch, this DIY embroidery kit comes with everything you need to complete your very own handmade embroidered art. Each kit comes with the thread and stitching guide needed to complete this pattern, making it a great beginner-friendly project! If you love the design, but you'd rather skip the "DIY" part, you can also shop the matching vinyl sticker.

Made with 100% natural ingredients, these hand-dipped beeswax candles are wrapped in wild mugwort leaves. Mugwort, also known as Artemisia vulgaris, is traditionally considered the plant of the moon (the Greek goddess Artemis is, after all, the goddess of the moon). This taxonomy inspires many to use mugwort in full moon celebrations and rituals, as mugwort is also traditionally believed to aid in connecting with spirits, producing intense dreams, and cleansing.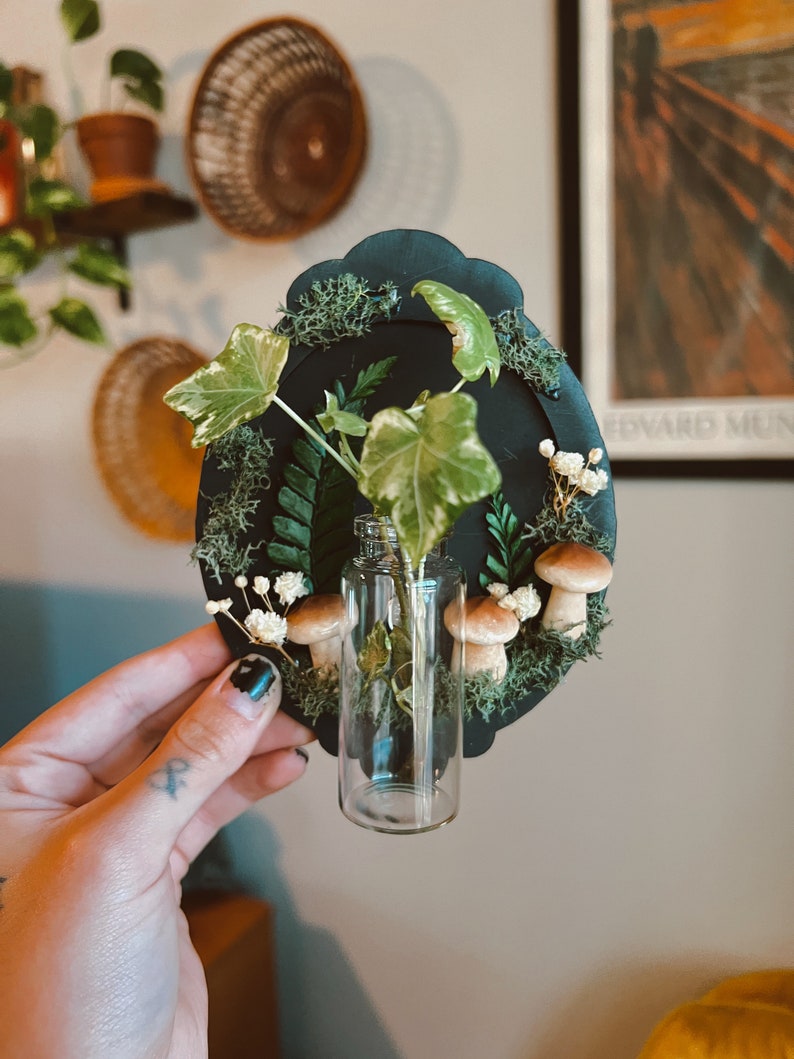 These delicately crafted mushroom detail wall planters are precious works of functional art. Perfect for small greenery and mini flower bouquets, or for propagating your plant cuttings! These little wonders also boast a brilliant design detail: each bottle is held on with a removable magnet so you can easily refill the water in your wall planter without spilling or damaging the frame.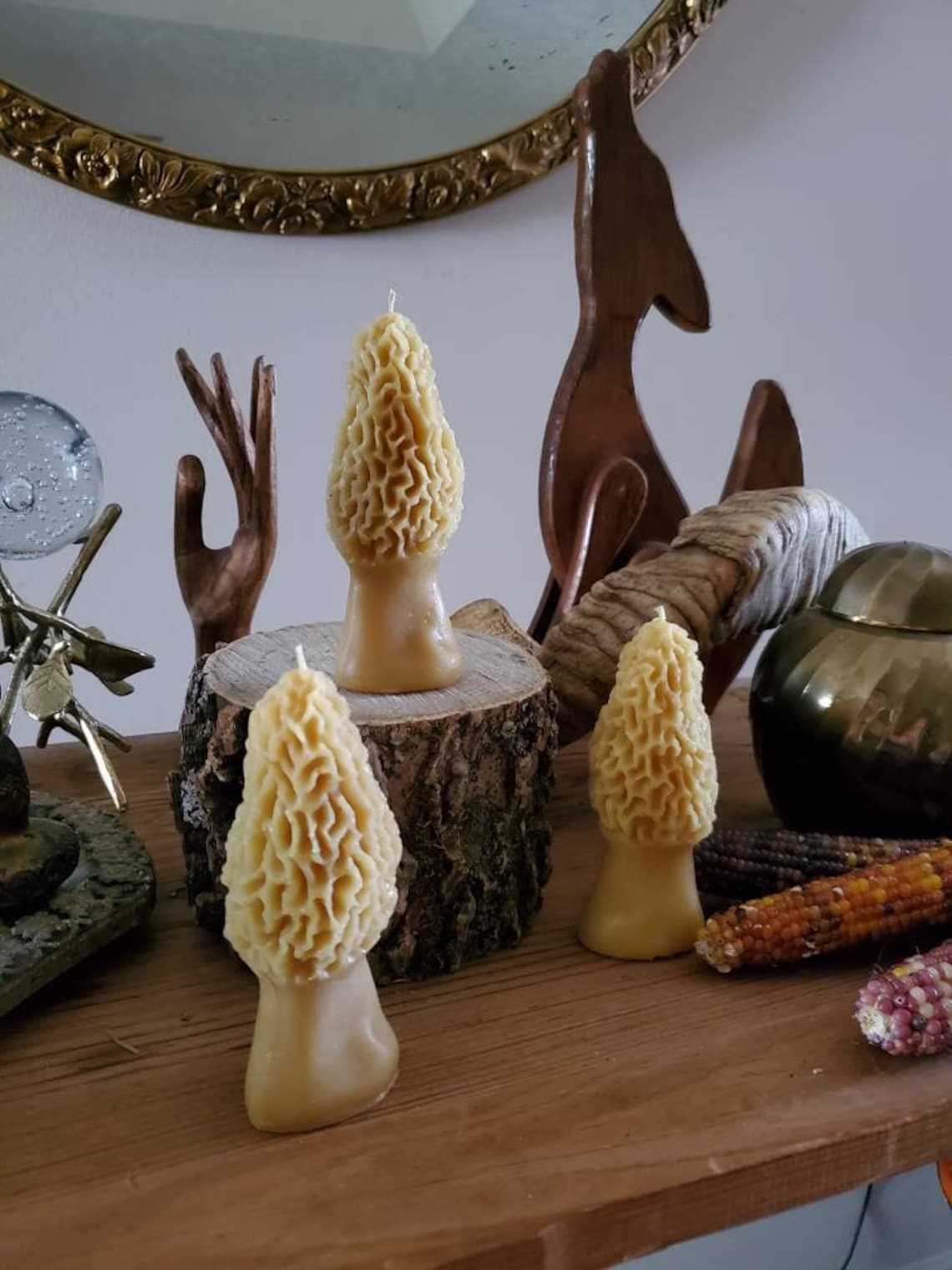 These adorable candles fuse two of my favorite things: the earthy, sweet smell of 100% natural beeswax and mushrooms! Their quirky detail, high-quality natural materials and elegant craftsmanship make these an excellent piece of functional decor for any nature-inspired home. They're so cute, you might have a hard time actually burning them!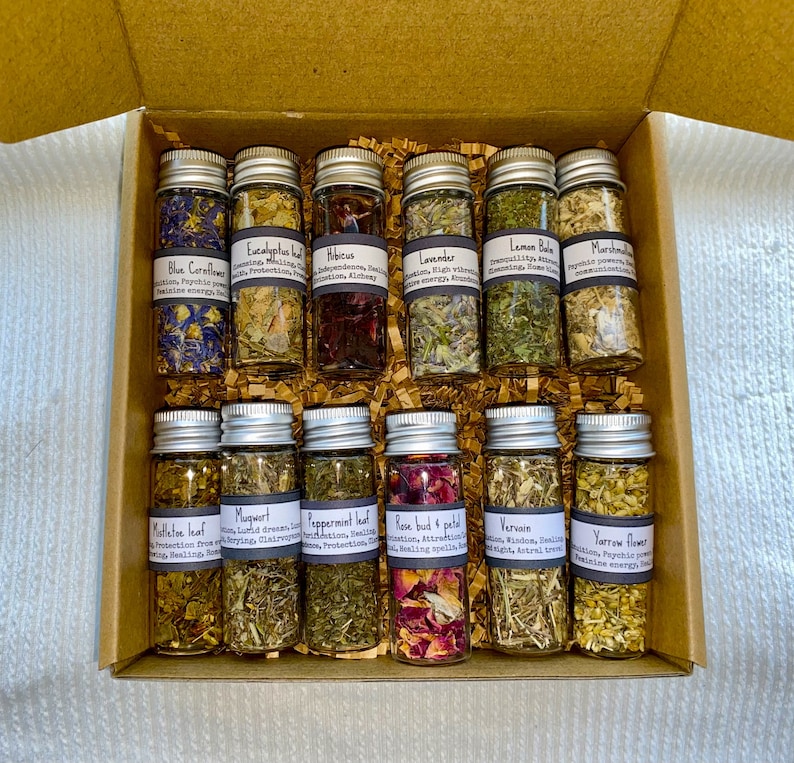 If you're low on your latest herb supplies (or don't have a space to grow your own), this adorable apothecary herb kit has everything you need. This shop has an extensive list of herbs available in different kits, some of which are customizable. Get all you need for your cleansing rituals, tinctures, salves, and other practices. 
If you're interested in learning more about the practices and knowledge involved in green witchery, check out The Green Witch by Arin Murphy-Hiscock. This is a great addition to your summer reading stack if you're looking to learn a little practical magic to implement in your garden, or if you're generally interested in herbalism and aromatherapy.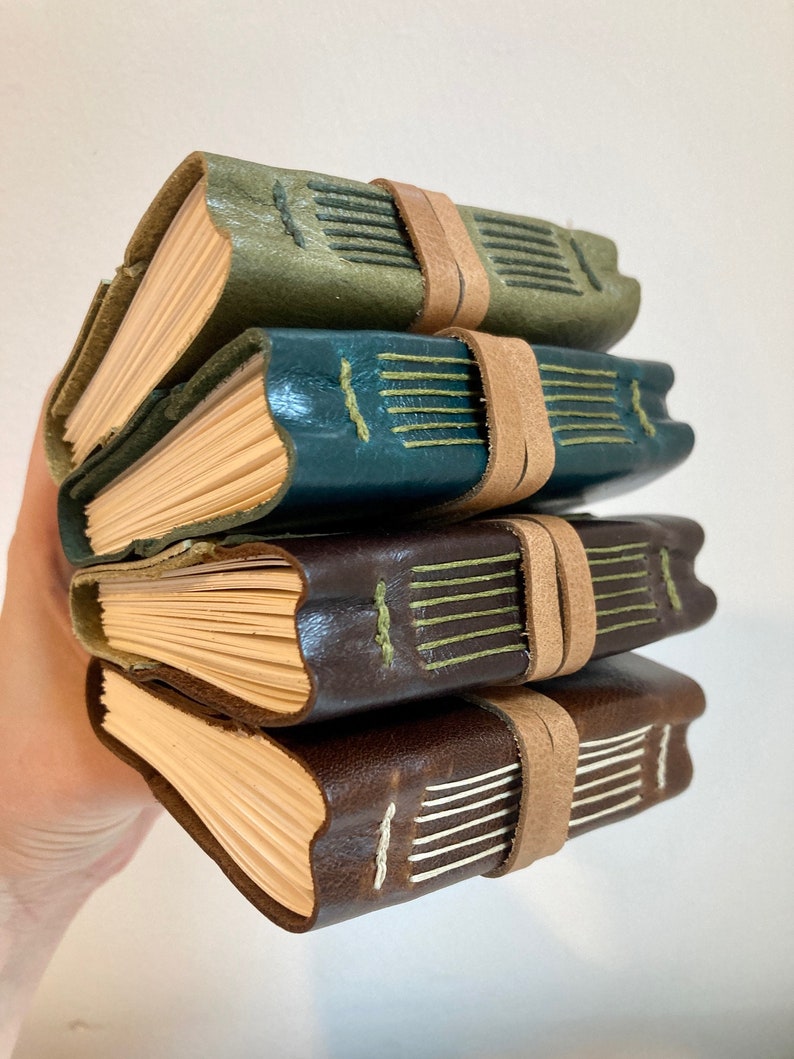 Okay, shameless self promotion alert! Meet the latest addition to the storefront: portable green leather garden journals for your on-the-go plant notes, nature thoughts, and outdoor musings. Made from sustainably sourced scrap leather in partnership with FabScrap Philadelphia, these little handbound journals are also helping to reduce landfill waste. Each is hand stitched (by yours truly!) using waxed cotton thread and thick art paper suitable for pen, pencil, ink, and watercolor.
Be sure to check out the rest of the StyleThrive collection on Etsy for all of your grimoire needs. Here's to a productive and grounded August and a cheerful start to the fall season! Stay witchy, folks.