With so many new iterations of the quilt jacket, it's safe to say this scrappy trend is here to stay. In addition to being wearable works of art that bridge time and space (no big deal), they also make the perfect transitional pieces for in-between seasons when you're not quite sure if your big winter jacket is necessary. The wide range of styles, shapes, and signature design touches means that no two quilt jackets are exactly alike.
Even better? These coats are made from vintage quilts or recycled fabrics, making them a sustainable choice too. If you're shopping for your first (or next) piece, here are a few quilt clothing makers you should definitely check out:
Buckle Bunny Vintage has a ton of gorgeous upcycled quilt clothes and vintage finds. This Vintage Handmade Quilted Jacket features a patchwork design made from vintage quilts, creating a stunning array of colors and high-contrast patterns. Its longline silhouette features a comfortable, loose fit that slips easily over any outfit.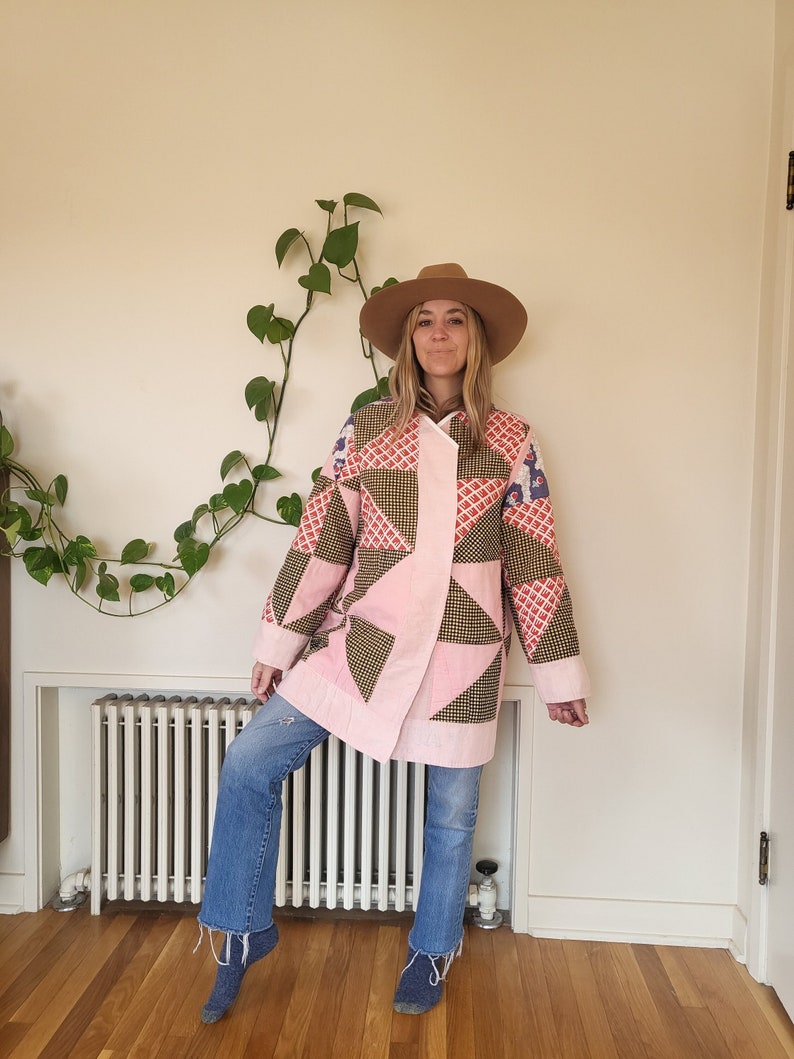 The Vintage Velvet Patchwork jacket features a luscious patchwork design handmade from vintage velvet fabrics. The touchable mix of colors and textures add a distinctly bohemian feel to the usual quilt jacket repertoire. As a one-of-a-kind vintage-inspired piece, this statement jacket offers a dose of style that spans seasons and generations.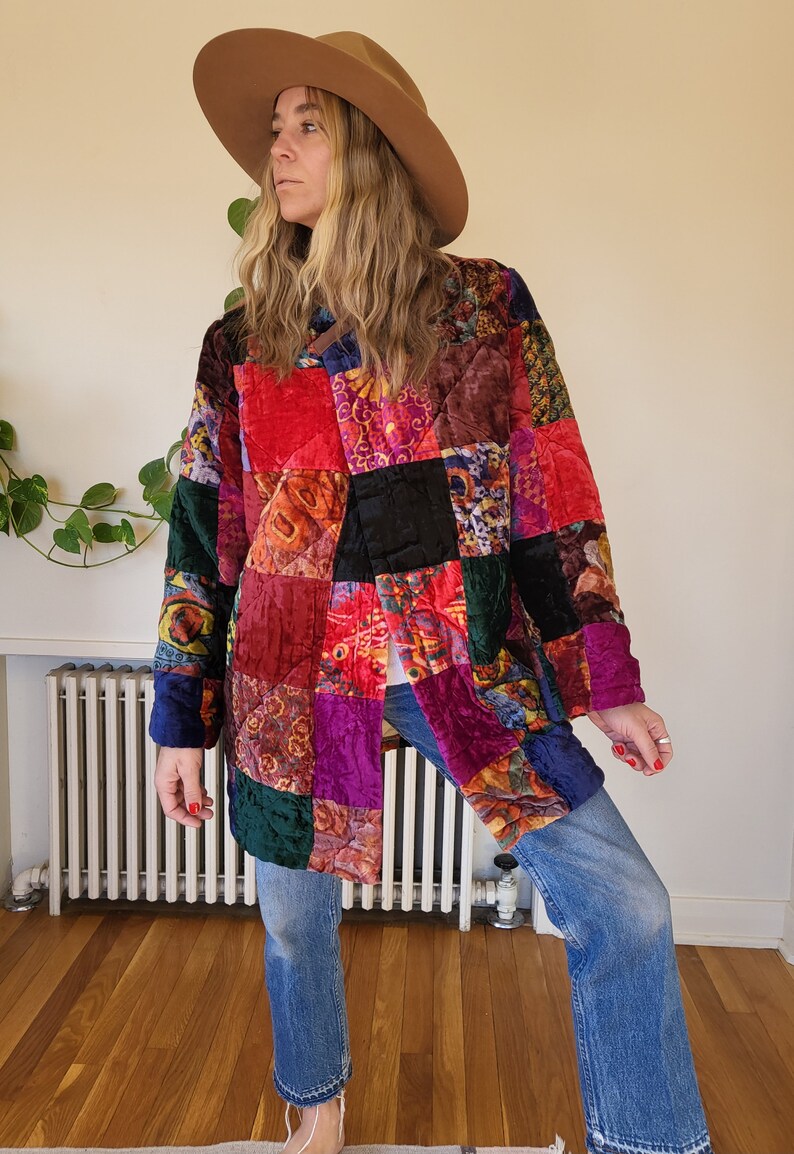 Sarah Robertson's collection of quilt jackets in the Runt by Sarah storefront offer a range of traditional and modern pieces. From bold colors to muted neutrals, there's a little something to suit every style and taste. These modern pastel shapes in the Vintage Patchwork Quilt Coat are especially perfect for spring: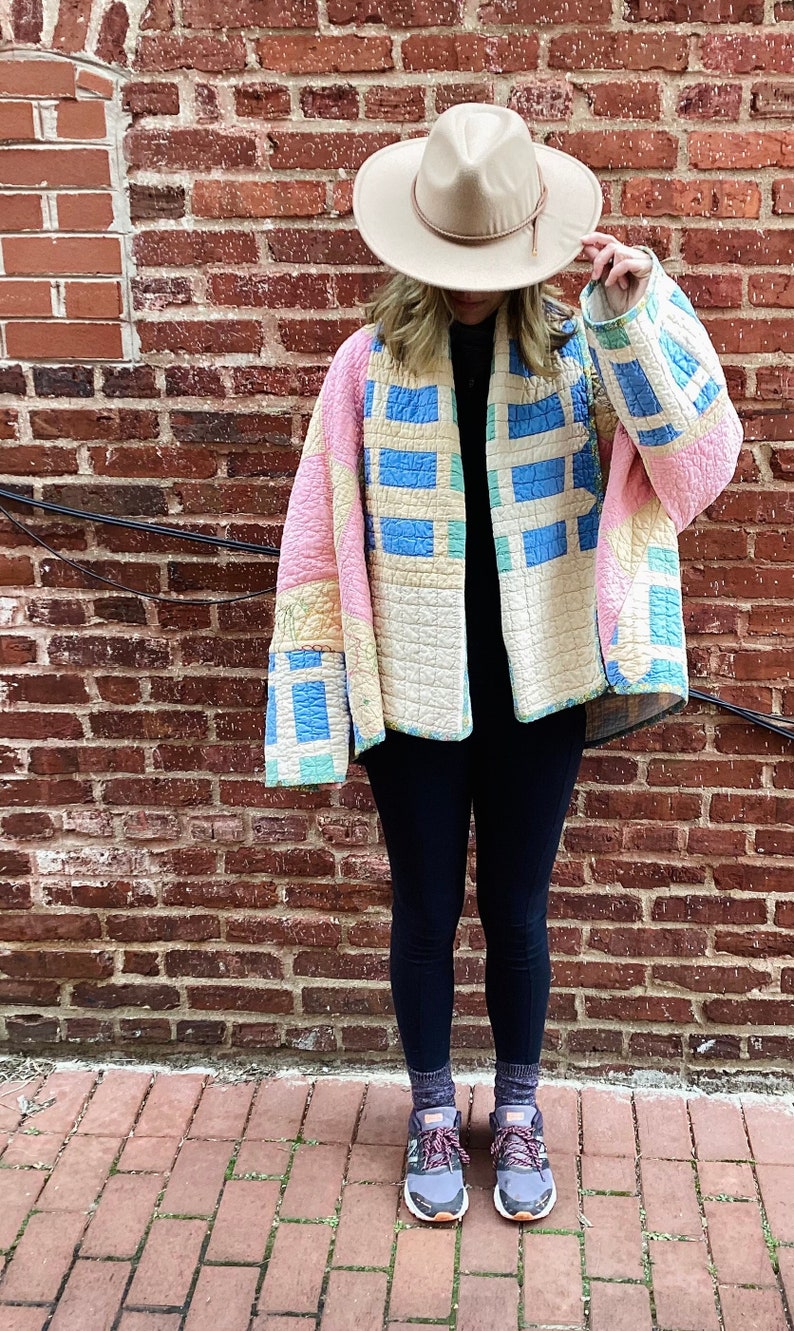 While this may not be a jacket in the traditional sense, this Vintage Handmade Patchwork Quilt Oversized Pullover Hooded Coat Jacket can't be missed. It's a cozy blend of coat and hoodie, making it easy to wear in a variety of ways. Be sure to check out the rest of the Runt by Sarah collection for more quilt hoodies!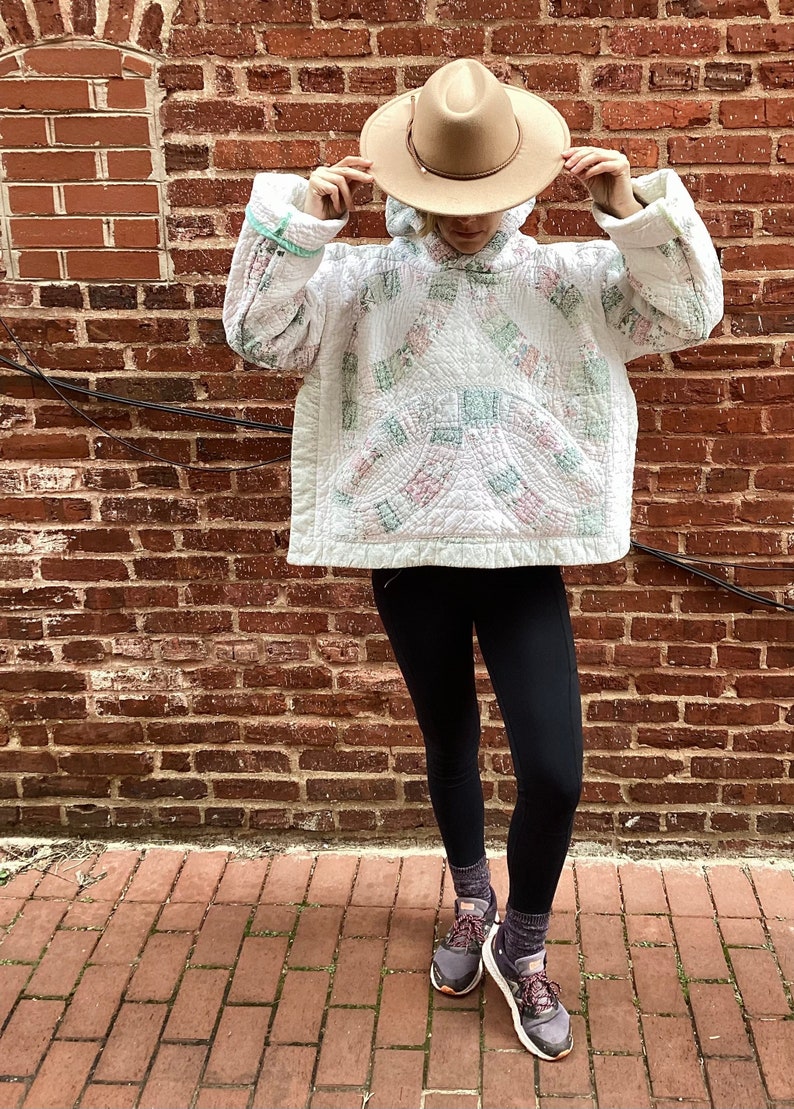 Polished and beautifully composed, the W.B. Thamm collection shows restraint in its minimalist shaping but goes big with print and color. This Workwear Inspired Long Quilt Jacket is a perfect wearable remake of a vintage appliqué textile with new, functional elements.
The Cropped Boxy Shirt Jacket makes patchwork feel modern with bright color combinations and youthful shaping. It's especially exciting to see this traditional oval shape quilt pattern translated into something new and vibrant: 
The muted, ethereal color palette of these quilt jackets from Wild Rose Vintage Goods add instant cool to any look. Hailing from Dallas, Texas, these gorgeous patchwork pieces blend boho and traditional style in a way that's perfectly suited for spring. 
Part of the fun in patchwork is combining print and pattern, making this Vintage Handmade Quilt Coat a wearable textural wonderland. Its curved hemline also adds a modern vibe to the garment, while big pockets and collared neckline pay homage to the chore coat.

These 1900 OOAK Cottagecore Quilt Jackets by New York-based Casa Grace Quilts are an awesome mix of old-world fabrics and modern jacket shaping. Many of the pieces in this collection are perfect for flexible all-gender wear, expanding quilt coat style possibilities for everyone. We love to see it!
Casa Grace Quilts also has a number of patchwork jackets in their collection made from other upcycled textiles, including this Vintage Cotton Jacquard Trucker Jacket. Made from lightweight fabric, this patchwork jacket makes a great choice for transitional in-between weather.
The dreamy, modern upcycled makes from THRILLENIUM have a clear message: what's old can truly be made new again. Each piece pops with fresh, colorful energy and playful contrasts (the signature rounded coat pockets are also pretty fun!) This Blue and White Upcycled Quilt Coat is made from a hand-stitched vintage quilt and lined with the perfectly chosen green fabric.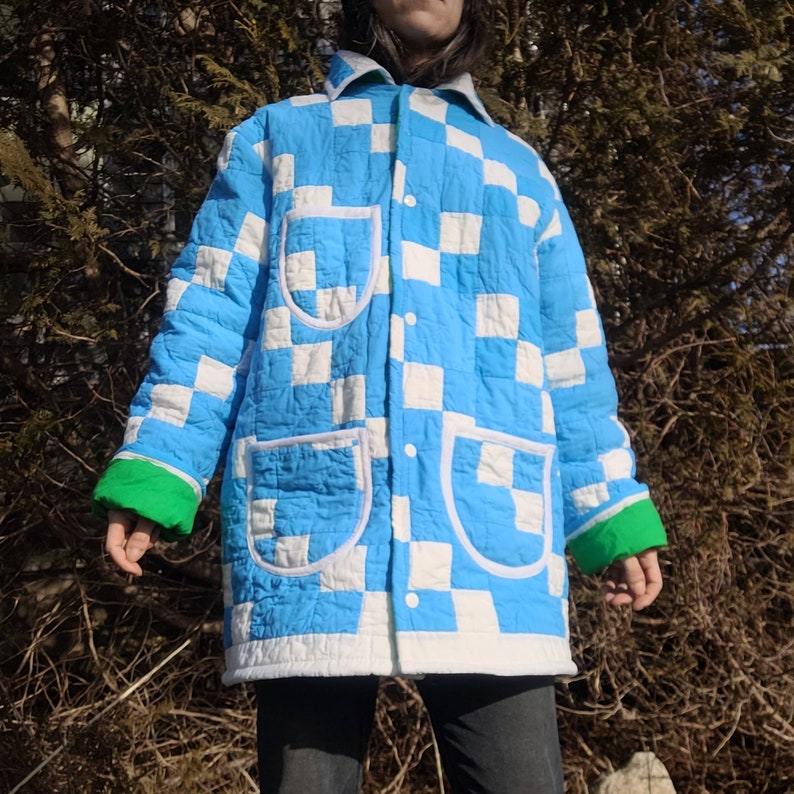 Okay, fine: this one is more sweatshirt than jacket, but it's too good not to share. The Pink Quilted Pullover Sweatshirt has the perfect balance of cropped silhouette and modern balloon sleeves. Check out the rest of the THRILLENIUM collection for quilted pullover sweatshirts and other upcycled textile jacket styles!
From vintage quilts to upcycled fabric pieces, these quilt jackets offer a sustainable and stylish choice for in-between seasons. Each maker has their own signature touch, expanding on traditional textile design with new jazzy riffs and rebirths. Rather than source new materials, quilt jacket makers use the decades of fabrics already available to us, which makes for some pretty impressive cross-generational collaborations.
Note: This post features Etsy affiliate links, but all makers are hand-selected by me!