There's something deeply satisfying about the meeting point of sustainable crafting and tech nostalgia. For one, upcycled technology creations pay homage to the fleetingness of our greatest breakthroughs, which feels like a humble admission in a world of mass market new gadgets.
These upcycles remind us that creativity enables endless potential for reinvention, reimagining, and reworking. While supporting small batch craftsmanship, repurposed tech goods also celebrate innovative waste reduction and clever ways to utilize the obsolete items of the past in a whole new way.
Here are some charming remakes for a delightful reminder that what's old can always be made new again...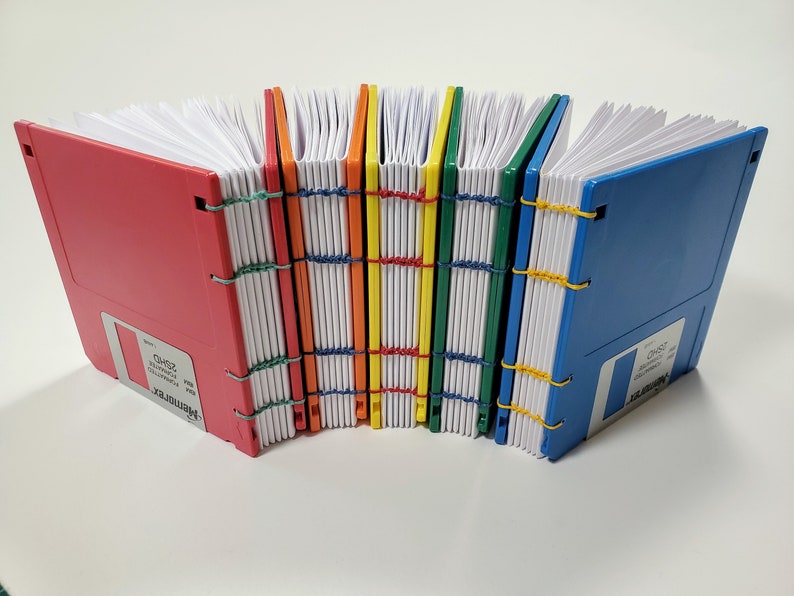 The Floppy Disk Notebook by Stoneburner books is a fun way to incorporate old school computer items into your everyday writing routine. If you're like me and actually remember using floppy disks, these little coptic bound books also offer a sweet little journey down memory lane. Each cover is made from an actual recycled 3.5-inch floppy disk and filled with blank pages perfect for jotting down notes or sketches. Each one is a delightful blend of retro style and modern functionality, making it a perfect gift for tech enthusiasts or anyone who appreciates a touch of nostalgia.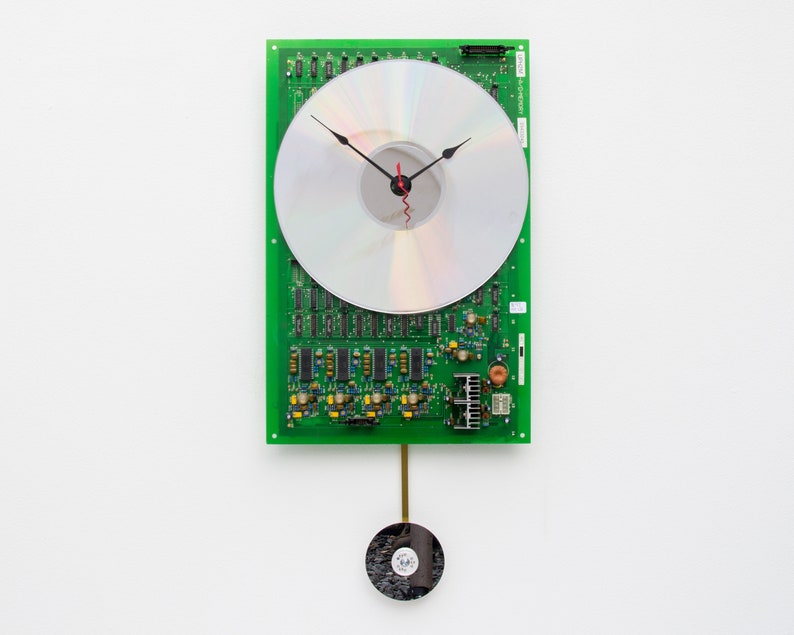 For sustainably-minded tech geeks, this circuit board clock is a dream come true. Made from repurposed computer components, including a circuit board and laser disk, this clock celebrates the intricate circuitry of tech history. Precise quartz movement clock components make this a functional work of art, adding a delightfully nerdy touch to any room. Whether you're a tech enthusiast or a computer wizard, this upcycled circuit board clock is sure to be a conversation starter in any space.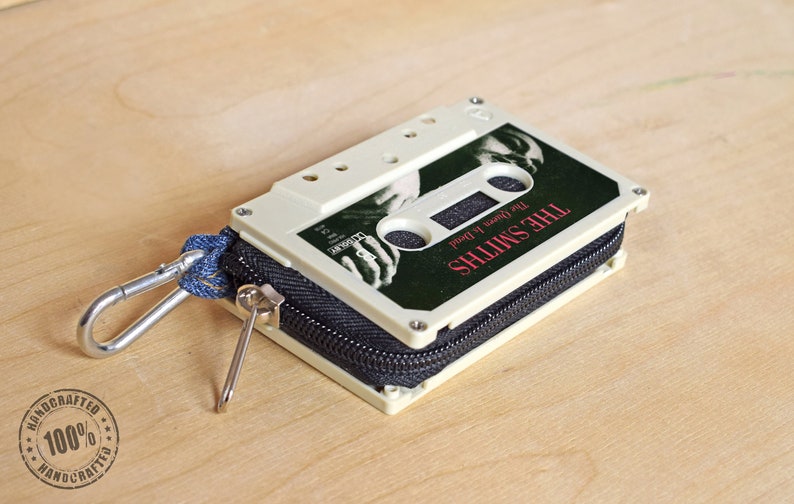 This upcycled cassette tape wallet is a must-have accessory for any die-hard music fan. Handcrafted with meticulous attention to detail, this wallet is made from an authentic cassette casing from The Smiths' critically acclaimed album, "The Queen is Dead." Each artfully crafted cassette wallet from the Cartsette storefront offers ample storage for up to 17 cards, cash, and coins. As a well-designed homage to a beloved band, this sustainable repurposed cassette tape wallet is the perfect fusion of eco-fashion and music appreciation. Check out the full Cartsette storefront on Etsy to browse a number of other cassette wallets from different iconic bands!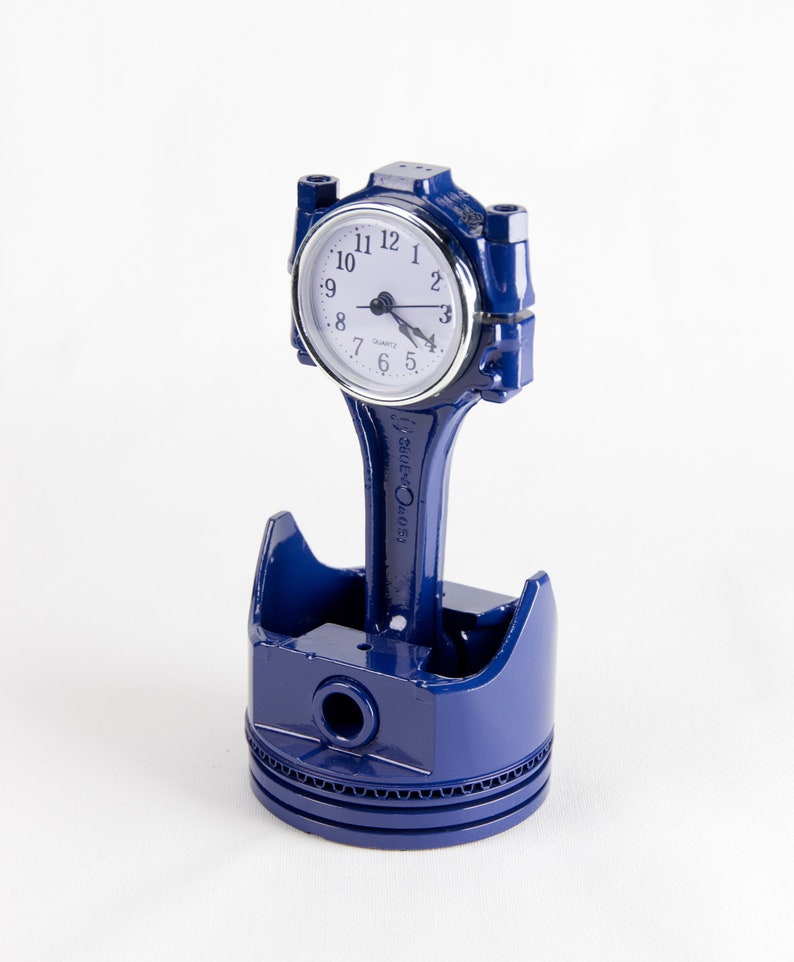 I can't promise you I know what a piston is or does, but this upcycled car part happens to make for an awesome desk clock! Crafted from authentic pistons sourced from Small Block Ford engines, this clock makes a perfect gift for the vintage automotive fans in your life. Each piston is transformed with meticulous precision into a functional timepiece that showcases the intricate details and rugged beauty of automotive engineering. The clock face features bold numerals and sleek hands, perfectly complementing the overall industrial charm. Whether you're a car enthusiast or simply appreciate one-of-a-kind decor, these piston clocks are an awesome unique addition to your home or office.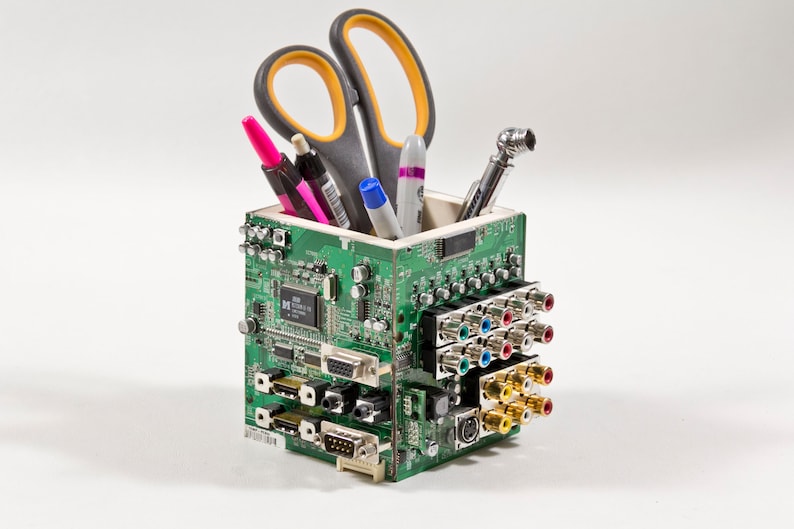 Organize your desk in style with the sustainably made "geek chic" Circuit Board Pencil Holder. Made from recycled circuit boards, its eye-catching design showcases the intricate patterns and vibrant colors of electronic components to inspire your most technical day-to-day passions and workflow. The holder offers ample space to store your pens, pencils, and other stationery essentials, keeping your workspace neat and tidy. Whether you're a tech enthusiast, a computer whiz, or simply appreciate eco-friendly craftsmanship, this pencil holder is a perfect addition to your desk or a thoughtful gift for the tech-savvy individuals in your life.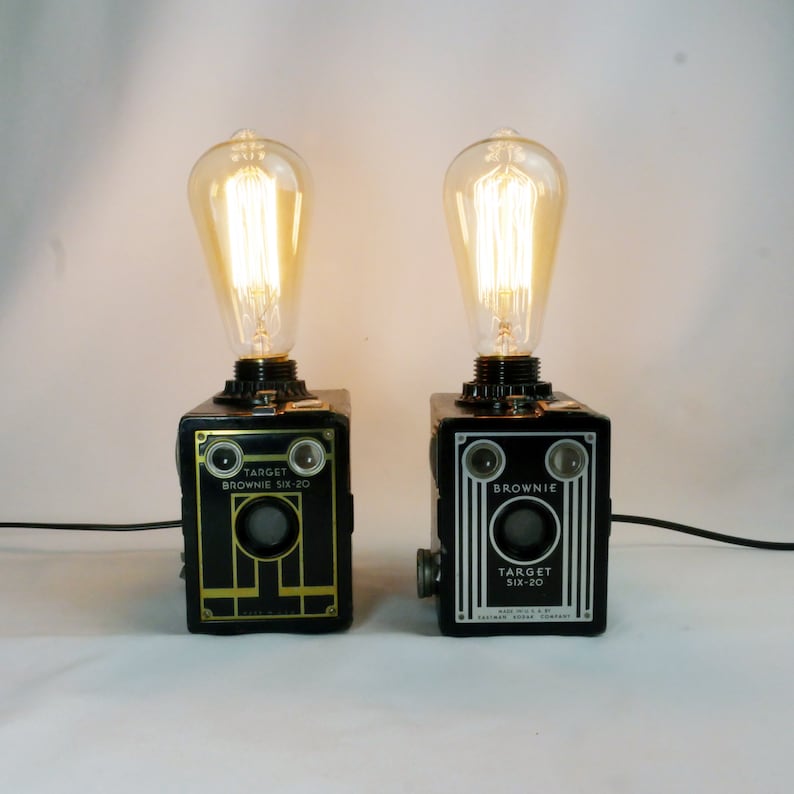 Something about the retro flair of a vintage upcycled camera lamp feels like a work of synchronous creative genius. This upcycled art piece combines the charm of vintage photography and camera design with the functionality of a table lamp. The camera body, a classic Kodak Target 620, has been carefully repurposed into a stylish lighting fixture to help illuminate your most creative and relaxing home spaces. It's a great home addition for photography enthusiasts, collectors, or anyone who appreciates vintage aesthetics in general.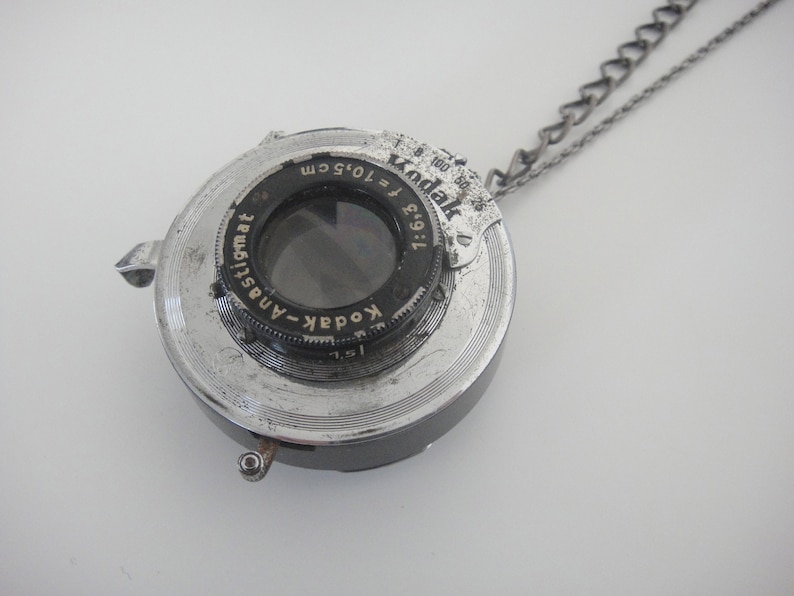 Wear your passion for photography close to your heart with an upcycled vintage camera lens necklace by Attic Glitter. The wearable upcycle features an authentic vintage camera lens, carefully repurposed and transformed into a stylish necklace pendant. The lens showcases intricate details and a weathered charm, accentuated by the delicate chain that adds a touch of elegance. Whether you're a photography lover or simply appreciate artistic accessories, this necklace is a perfect way to showcase your individuality and add a vintage-inspired flair to any outfit. It also makes a thoughtful gift for creative souls and photography enthusiasts alike.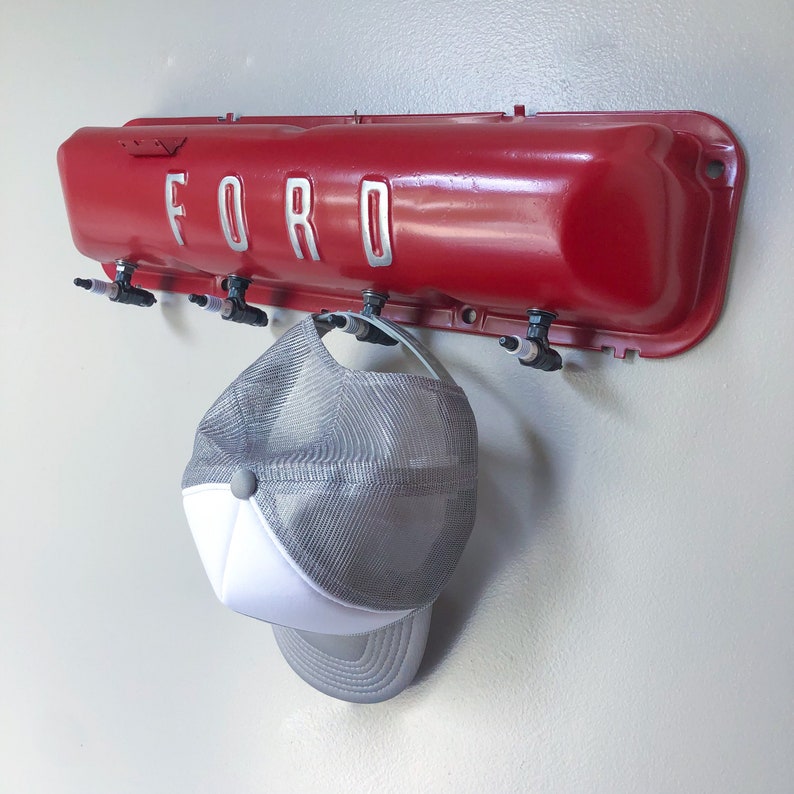 Automotive nostalgia is the whole vibe with this Repurposed 1950s 352 V8 Valve Cover Coat Rack. Handcrafted from an authentic vintage valve cover, this coat rack transitions old auto parts seamlessly into a functional and stylish home decor piece. Each valve cover is carefully restored, preserving its vintage charm and showcasing the original manufacturer markings. With multiple hooks to hang coats, hats, or accessories, this coat rack combines retro aesthetics with practicality, making a create collector's item. Display yours in entryway or garage or gift one to the car enthusiast in your life.
Upcycled obsolete items help us embrace the beauty of sustainable craftsmanship, the allure of tech nostalgia, and the ever-changing tides of time. All of these small batch goodies make excellent gifts for tech enthusiasts but also serve as a reminder of the transient nature of our greatest technological breakthroughs. Discover these charming remakes (or let them inspire your own projects!) and witness the transformation of the old into the new.
And hey, if sustainable reuse is your thing, check out the rest of our blog for more upcycled makers and crafting ideas!