If you're a plant lover looking to add sustainable upcycled planters to your indoor space or backyard, there are a ton of pre-made and DIY options. As always, repurposing old or vintage materials allows you to create signature looks for cheap while helping reduce waste. 
From upcycled coffee sacks to recycled VHS tapes, these top 5 unique upcycled planters offer a one-of-a-kind outfit for your plants. Each product showcases a commitment to sustainable materials, perfect for those looking to make a positive impact on the planet while indulging in their gardening hobbies.
If you're a coffee lover looking for a sustainable and stylish way to display your plants, these upcycled plant pots are perfect. Made from reclaimed sisal coffee sack material, each pot has its own signature look to suit your plant's personality. With their eco-friendly design and eye-catching aesthetics, these pots are the perfect addition to any green thumb's collection.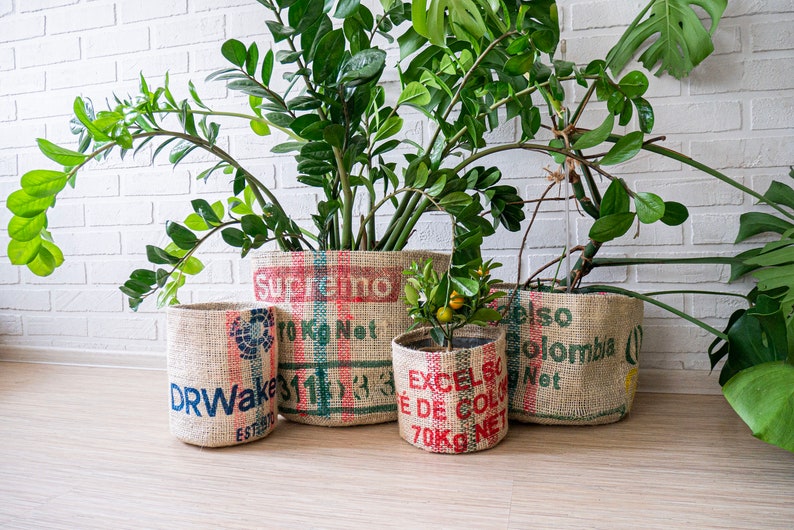 Image Source: Ropelampidea
Take your gardening game to the next level with this innovative hydroponic planter! Made from a high-quality upcycled glass bottle and equipped with a self-watering design, this planter is a great way to grow plants without soil (and minimal effort). Whether you're a seasoned gardener or just starting out, this planter is the perfect addition to your indoor garden.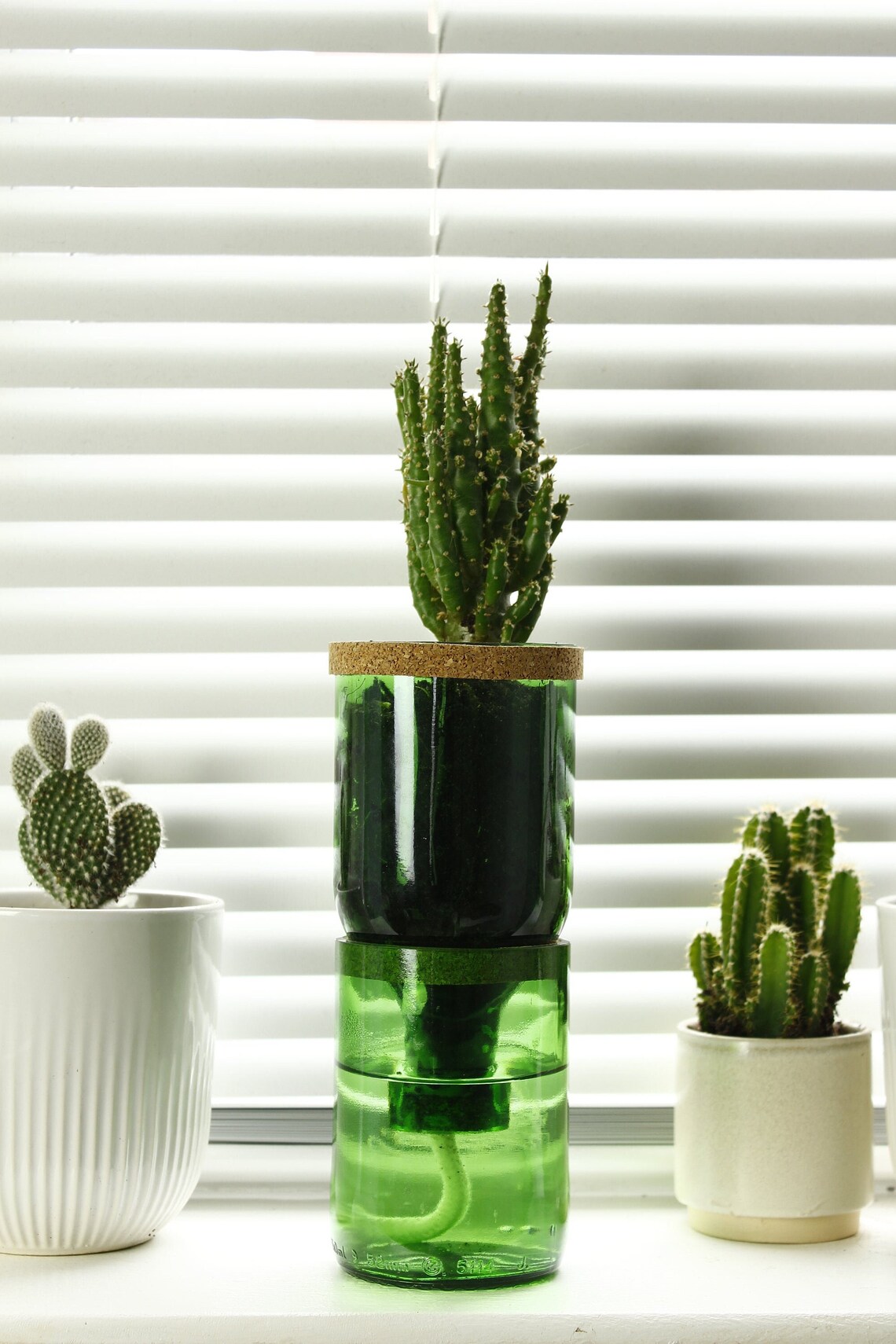 Image Source: Lochran Glass
Looking for a unique and eco-friendly way to display your air plants? Look no further than this geometric planter made from recycled skateboards. Each planter is one-of-a-kind, showcasing the vibrant colors and patterns of old skateboard decks once used for daring tricks. With its eye-catching design and sustainable materials, this planter is a must-have for any eco-conscious plant lover. Why settle for boring planters when you can have a stylish and sustainable option like this?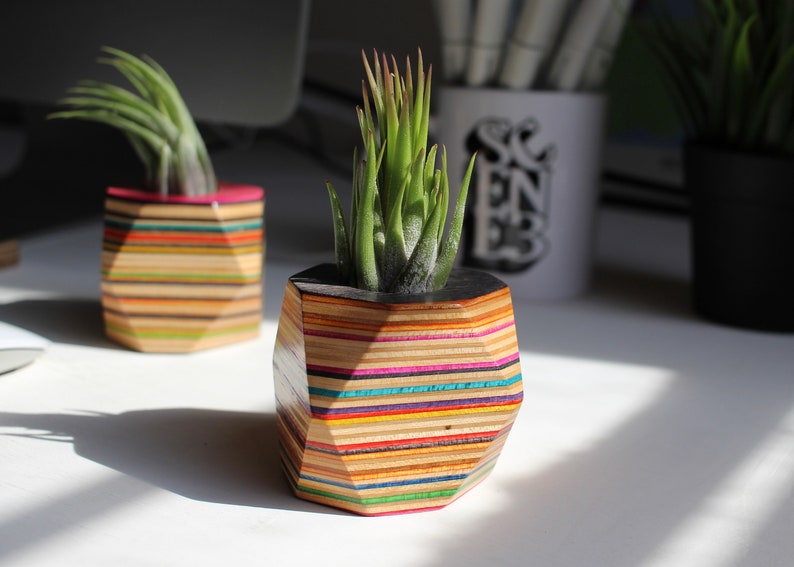 Image Source: Scene3Designs
Add a fun touch of nostalgia to your indoor plant game with this recycled VHS tape planter! Made from repurposed classic VHS tapes, this unique piece is a great way to elevate old technology into something new and functional. Perfect for displaying your favorite small plants and making thematic movie-and-plant pairings, this creative indoor gardening accessory is sure to be a conversation starter. Choose from a selection of hand-picked movie titles to customize yours.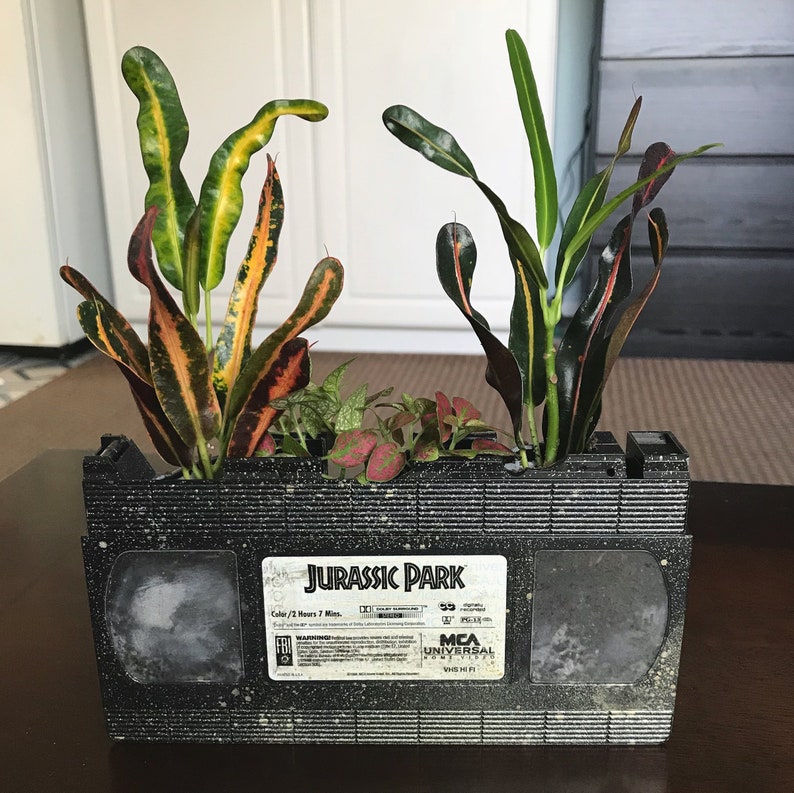 Image Source: niftyrecyclables
Add an eco-friendly pop of color to your indoor or outdoor plants with these vintage-inspired upcycled metal pots. Each pot is made from reclaimed materials and comes in a variety of vibrant colors to brighten up any space. With a unique rustic design and sustainably sourced materials, this pot is a great way to add some eco-friendly flair to your gardening game. Easy-to-mount hanging hooks help you customize your growing installation.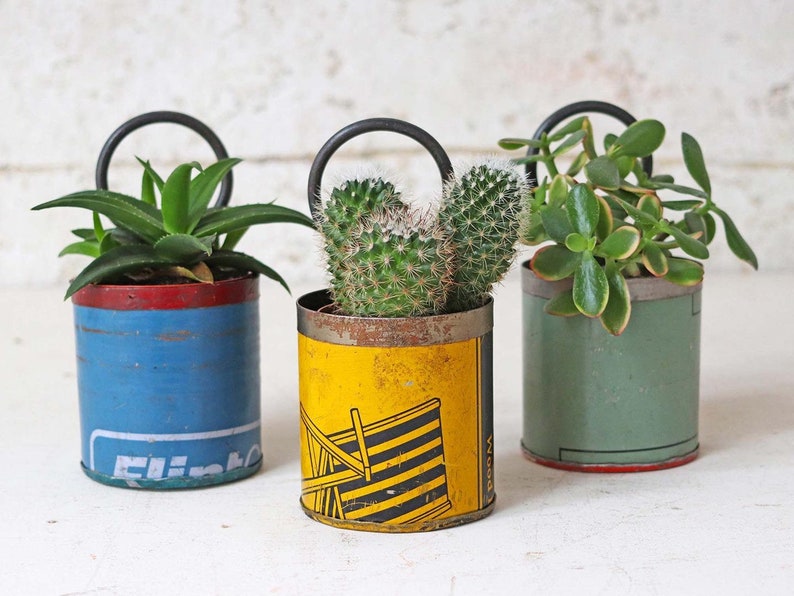 Image Source: ScaramangaTrading
In a world where sustainability is becoming increasingly important, it's exciting to see how creative minds are finding ways to turn waste into something beautiful and functional. These upcycled planters are a testament to the ingenuity and passion of eco-conscious designers, who are finding ways to turn what was once waste into unique and sustainable products. By choosing to invest in upcycled planters like these, we can all do our part to reduce waste and help make the world a greener, more sustainable place.
Note: This post features affiliate links, but all makers are hand-selected by me!